STEAM ENGINE 489
MAN CHASING WIFE
CUMBRES AND TOLTEC SCENIC RAILROAD
ANTONITO, COLORADO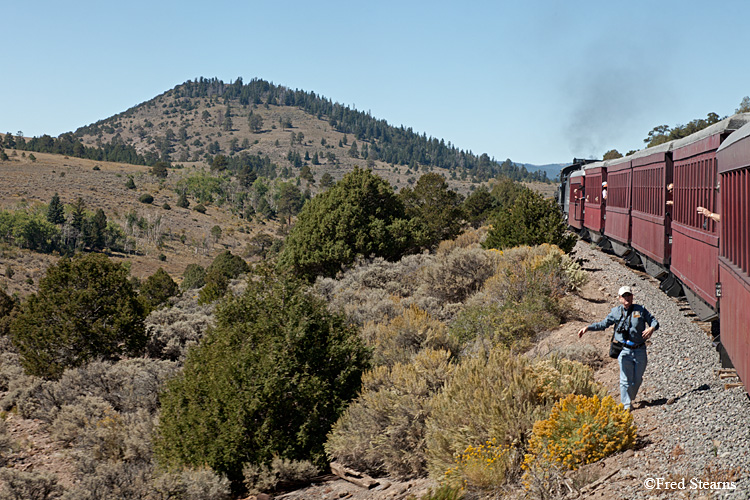 Steam Engine 489
Man Chasing Wife
63094-00411D
There is an interesting story behind this scene. I was back in the open car as we went past a person in red lying by the tracks. Then we passed this man running along the train. From a radio held by a fellow passenger, it turned out that the person was a woman who fell out of the train. From the communication that went on over the radio, it became apparent that no current employee had ever heard of such a thing happening before. The train backed up to pick up the woman and her husband. As we approached, she was standing up and her husband was taking her picture. I can understand this as there appeared to be no major injury. They were picked up and she hobbled back through the train to the concession car where she was treated. Her leg and foot were scraped up, but there did not seem to be any further injury. The were given the choice of returning to town either by helicopter or pickup truck. The train made another unscheduled stop to let the couple off to be taken to town via pickup truck. Talking to the Engineer after we returned to Antonito, she was taken to the local hospital where she was treated and released.
From my observations, the company did everything that they were expected to do and more. Since they had no prior experience with this event, I thought that they did an admirable job of handling the situation. The situation that allowed her to fall from the train was identified and marked for later correction.
For obvious reasons, this photograph is not for sale.
Any comments or questions
Contact
---
Web page ©Fred Stearns
All Photographs ©Fred Stearns
All rights reserved
---
Last updated on Wednesday, August 3, 2011
By Fred Stearns